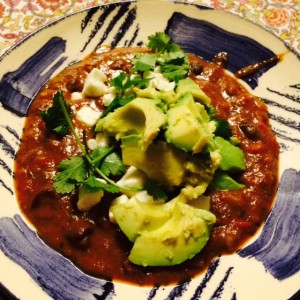 Here in Northern California we are experiencing a winter of El Nino which means cold rainy days.  On days like this I crave warm spicy soup (and a shot of cinnamon whisky if I let my alcoholic self make decisions).  Warm Spicy Soup can mean a lot of things but in a family with a daughter who has a very low tolerance for spice and a son that likes a lot of spice, it's hard to make something both kids will eat.  I recently heard from my Dr that I need to work on lowering my cholesterol which means for me eating more beans and less butter and shrimp (crap now I'm craving shrimp with butter noodles!).  So on this rainy cold day I decided to make Black Bean Soup (Hubby will make meat to go along with it–since I'm not allowed to cook meat anymore which is another post all together) .  Last time I attempted this soup I made it from dried beans and in the end of cooking them all damn day they were still pretty hard (soup fail).  So this time I decided to use canned beans.  I combed the internet for recipes and decided in the end that I would have to create my own because who better to know my family's taste than me right?!
I love my dutch oven!  I would marry it except that I love rubbing my husbands feet too much to give that up (seriously he has the sexiest feet).
Here's the recipe I ended up:
Heat Dutch oven and add salt, olive oil, garlic, onion, 2 diced carrots, 2 diced celery ribs, 1 jalapeno, 1 red bell pepper diced.  Cook for 5 minutes. Add 1 teaspoon cumin. Cook 2 minutes.  Add box of chicken stock, 3 cans of black beans, 1 can diced tomatoes.  Cook for 2 hours on simmer.  Take 1/2 of the soup and blend and then add back into soup.  Here is a pic of the soup once blended.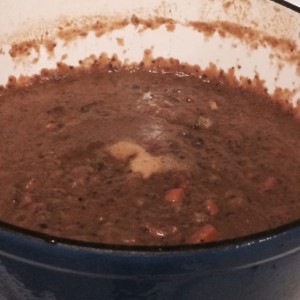 Serve with avocado, feta (instead of sour cream which I can't have with my cholesterol), cilantro, and scallions.
I served in bowls my mother-in-law gave to us which I adore.
Add more or less Cumin and Jalapeno for desired spicy-ness.